Home
About Me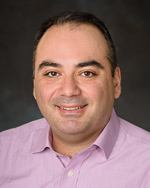 I am an assistant Professor in the Department of Computer Science at Stevens Institute of Technology. I obtained my PhD in Computer Science from Vrije Universiteit Amsterdam on February 2010. I also hold an MSc and BSc in Computer Science from Leiden University and University of Crete, respectively. My research interests are mainly around the area of systems and security. In the past, I have worked on software security, honeypots, taint analysis (information-flow tracking), analysis of binary software, run-time and compile-time software instrumentation, control-flow integrity, code-reuse attacks, Tor, and user authentication. For more information check out my CV and my Google Scholar Profile.
Contact Information
Email: georgios DOT portokalidis AT stevens DOT edu
Twitter: @portokalidis
Phone: 201.216.8311
Fax: 201.216.8249
Address:
North Building 307A
Department of Computer Science
Stevens Institute of Technology
Castle Point on Hudson
Hoboken, NJ 07030
We received an award from ONR to work on "ABIDES: Adaptive BInary Debloating and Security". I am looking for bright students and postdocs to work on this, as well as other active, projects. More information here.